7 Innovative Kiosk Features by XPR Self Ordering Kiosk
In today's digital climate, there are many new ways to interact with customers in the Food & Beverage industry. In recent years we have seen a rise in the utilization of kiosks as customers have become more and more comfortable with using touchscreens in their daily lives. Many of the large Point of Sale vendors have recently begun to offer restaurant and food service solutions modeled around this concept, but few have been able to create an efficient, user-friendly experience that helps to drive increased revenue. XPR has designed their kiosks specifically with these goals in mind through the innovative features they offer to their clients.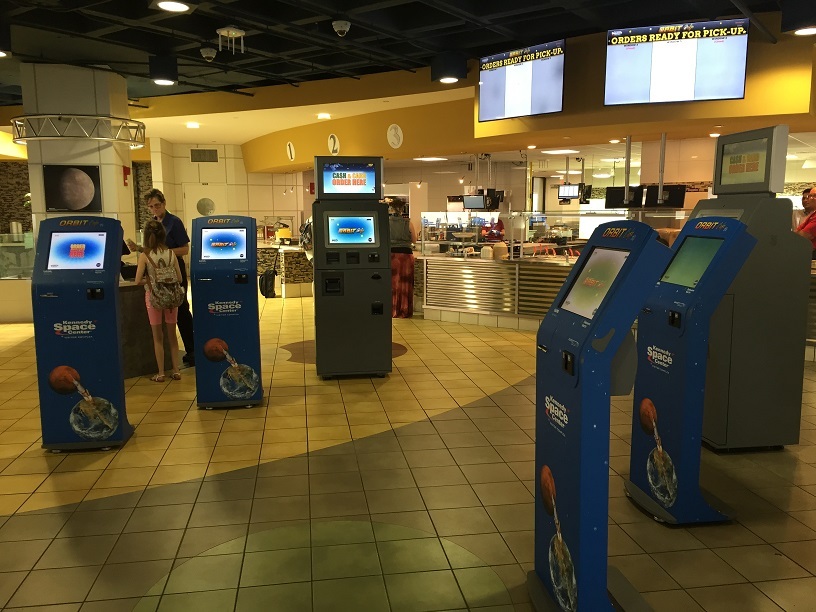 XPR Kiosk Features
1. Time-Based Menus
Whether it's a small restaurant or a large-scale corporate dining environment, most clients offer different menus at different times. Some have breakfast, lunch, and dinner menus, while others offer happy hour specials or daily specials in addition to their standard menu items. With XPR kiosks, we can set the availability of all menu items to only be shown at the specific times that we want customers to order them. This helps reduce order time and increase the overall sales volume as customers do not need to search through cumbersome menus. Ordering can also be enabled and disabled at specific times to match the locations operating hours.
2. Multilingual Platform
From airports, corporate dining, and restaurants to national parks, stadiums and resorts, XPR has customers operating globally in all segments of the F&B industry. At many of these locations there is a need to offer menus in multiple languages. XPR can translate menus into any language and offer multiple languages on each device. To do so, they simply have the customer select their desired language as the first choice when using a kiosk and the corresponding menu is displayed. This allows clients to capture additional orders from customers that would not have been offered a suitable medium otherwise.
3. Animations
Within the menu layout, clients have complete control over the arrangement of category icons and menu item icons within each category. Furthermore, specific menu items can be highlighted with dynamic animations images to draw the attention of customers. It is advantageous to select best selling menu items or menu items with the largest profit margins to help drive increased revenue.
4. Up-selling
As every owner in the F&B industry knows, up-selling is one of the most important ways to drive check averages. XPR kiosks offer an array of up-sell options to help capture more value from each customer while improving their overall experience. Conditional up-sell options are available where complimentary items are suggested once an initial selection is made. Up-sell screens can be triggered on the backend of menu items and before checkout. If certain items from the upsell menu are already in the customers' cart, additional items can be substituted so that customers aren't forced through redundant selections. This helps to increase revenue while optimizing the user experience.
5. Beverage Limits & Verification
When ordering items from a kiosk that require age verification, XPR has incorporated some features to help emulate the clients' operational requirements. Many venues limit the number of alcoholic beverages customers' can select in each order. XPR kiosks can configure specific menu items to have maximum limits for each order. Furthermore, these menu items will display a message that informs the customers that they will need to present identification upon pickup.
6. Last Call Notification
In many stadium environments, there is a "last call" for alcoholic beverages in the 7th inning stretch or just before the last quarter/period of the game starts. With XPR's kiosks, clients can send push notifications to customers that have entered their phone number or email as part of the ordering process. These notifications can also be used to simply let customers know the concessions location they used will be closing soon. This will prompt more customers to get up and place one last order rather than missing out, helping to drive increased revenue and customer interaction.
7. User focused Integrations
XPR has partnered with many industry leaders to help create an elegant and optimized experience for the customer. Clients do not always need to abandon their existing vendors and point of sale equipment, but rather complement their current operation. When it comes time for customers to pay, XPR offers traditional cash and credit payment methods in addition to contactless tap/touch, Apple Pay, Google Pay, and Amazon Pay. Even if customers forget their wallets, they can place orders and pay with their digital wallet of choice. XPR has also partnered with leaders in the loyalty and promotional arena. Customers can apply promotional codes or scan credentials to receive discounts and preferential pricing. This allows XPR's product suite to work seamlessly with clients' marketing initiatives and drive customer interactions.