ADA Compliance for Self Service Kiosks
In America today, there are 61 Million people living their day to day lives with some sort of disability. That breaks down to 1 in 4 Americans or 25% percent of the population. The CDC states that 13.7% of all adults have a disability relating to mobility, 10.8% relating to cognition, 6.8% relating to independent living, 5.9% relating to vision, 4.6% relating to hearing, and 3.7% relating to self care. When most people think of ADA regulations and compliance, they immediately think of wheelchair access. While this is important, it's only one piece of the puzzle. As technology becomes more and more embedded in daily life, it's imperative for user interfaces and design specifications to accommodate all users. In the retail, services, and hospitality industries, kiosks have become a popular alternative to traditional mediums. The placement and usability of these devices need to adhere to ADA regulations to ensure all users accessibility. XPR POS has developed specific features to help accommodate users with disabilities and they also work with partners to ensure accessible spaces.
Standard kiosk regulations
With regards to ADA compliance and kiosks, a good place to start is physical accessibility. When considering forward reach, an unobstructed kiosk screen should be no higher than 48 inches and no lower than 15 inches. If the screen is obstructed and that obstruction is greater than 20 inches deep, the screen should be no higher than 44 inches. The depth of the obstruction should be no more than 25 inches and the area underneath it should be clear. If the obstruction depth is less than 20 inches, the screen height should be no higher than 48 inches and the area underneath needs to be clear. When considering side reach accessibility, 48 inches is the maximum screen height and 15 inches is the minimum. If an obstruction is deeper than 10 inches, the maximum depth should be no more than 24 inches, with a height not to exceed 34 inches, and a maximum height of 42 inches regarding the screen. If the obstruction is less than 10 inches deep, it should be no taller than 34 inches and the maximum screen height should not exceed 48 inches. Regarding the space in front of the kiosk, there should be at least 30 inches of width and 48 inches of depth with regards to forward facing access and there should be at least 48 inches of width and 30 inches of depth with regards to side access.
XPR's Features
In addition to the physical space regulations, visual and auditory accessibility are also important considerations. At XPR POS, the development team has released features to guarantee all users are accommodated and their self-ordering solutions are available for everyone to use.
Speech-to-Text: To help users that are visually impaired, XPR has enabled their voice-to-text feature that is coupled with automated responses. This emulates an interaction with a digital cashier and XPR's AI bot learns natural language patterns to understand customer queries and respond with appropriate instructions.
Color Inversion: Additionally, XPR has designed high contrast interfaces to help users with colorblindness differentiate between difficult shades on the color spectrum.
Dyslexia Setting: XPR also offers the option to select specific fonts for users with dyslexia. This special font is designed with extra spacing between the letters to make it easier for users to differentiate between letters.
Increased Text Size: In addition to the optional font, users can also choose to increase the font size if they are having a hard time reading the current text on the screen.
Multilingual Platform: XPR offers to translate their menu into any language in an effort to increase usability and accessibility.
Allergen Warning: When configuring the menu items and categories for the kiosk interface, allergen warnings can be enabled to show dietary restriction icons that inform customers of the possible risk. These are often used for gluten free, dairy free, vegetarian and vegan choices.
Wheelchair Accessible: To help improve the usability of their kiosk interface, they have added an accessibility button on the lower portion of the screen that reorients the categories and the majority of the keystrokes to the lower half of the screen giving users with physical disabilities alternative options. XPR also offers a scannable QR code that can be placed on or near kiosks that will open a URL with the same interface on the customers' cell phones. These features help to ensure that businesses are ADA compliant, giving all of their customers the same accessibility and accommodations.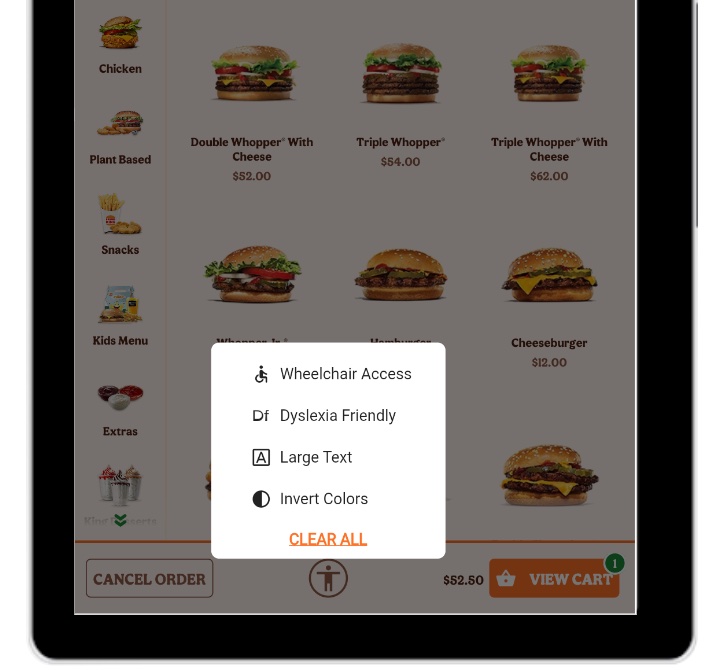 Contact: sales@xprpos.com