Jailbirds Chicken implements Self Ordering Kiosk integrated with Oracle Simphony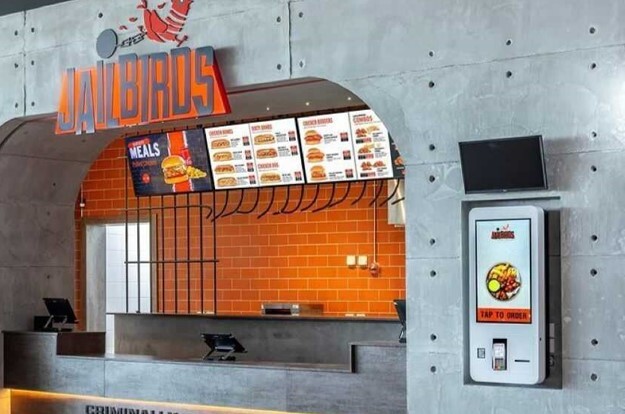 XPR POS just recently expanded their international footprint by implementing self ordering kiosks at Jailbirds Chicken in Cyprus. Jailbirds is a multi-outlet fast-casual restaurant offering various street food and chicken inspired dishes. In order to better serve their customers, Jailbirds' team wanted to introduce a self ordering solution that would be a quick and easy medium for customers to submit orders rather than baulking at long lines. Speed and accuracy are paramount for a successful operation in the fast-casual segment of the food and beverage industry as customers are looking for a time-efficient experience. Two self service kiosks were optimized with intelligent upsell options to help drive check average and give customers the ability to submit orders on their own. These kiosks were paired with two XPR Point of Sale terminals and their order management system in the kitchen. The order management system includes an assembly app to help kitchen staff streamline the order building process and an order display board to inform customers when their orders are ready for pickup.
Oracle Integration:
XPR has been partners with Oracle for almost a decade now and has integrations with their 3700, 9700, Simphony, and Opera Suites. Just recently Oracle released the second iteration of their Simphony suite and while XPR has multiple customers already using their Simphony1.x integration, Jailbird's was the first to request a 2.x integration. Historically, Jailbird's used Oracle for their Point of Sale systems at all locations. XPR is a preferred kiosk partner for Oracle and this was the perfect partnership for Jailbirds. They did not want to abandon their legacy system or be forced to manage reports and other backend processes independently on two different systems. XPR was able to implement a live, real-time integration pushing all transactional data into the Oracle system as the orders are processed.
Conclusion:
In today's digital climate as new technologies emerge, it becomes increasingly important for businesses to maximize the utilization of their point of sales systems to meet customer expectations. This can be easier said than done when considering the cost, maintenance, and risk associated with choosing a new point of sale system. Jailbirds' team found the best of both worlds by combining the efficiency and functionality of XPR's self ordering solutions and Symphony's robust backend management platform without abandoning any investments in their legacy system. Moreover, the real-time integration pushes data continuously and seamlessly between the systems so there is no additional maintenance for the Jailbirds' team. XPR was able to emulate Jailbirds' operational workflow with their self ordering solutions and kitchen management system to drive customer satisfaction and increase revenue.