Burger King at Cyprus Airport Implements XPR's Self Ordering Kiosk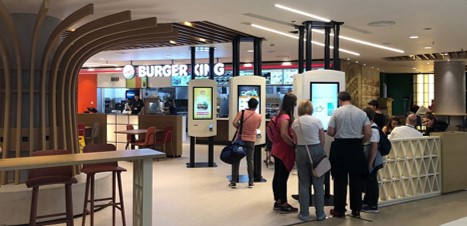 CYPRUS: The Hermes Airport in Cyprus has major plans to upgrade its shops and food outlets this year. In March 2019 they announced an 18 month plan to do so. Just one month later, they have already completed the first stage of the project which included updating two food outlets, one of those being a Burger King.
This Burger King, being one of only four in the entire country, was relocated to another section of the airport and tasked XPR to help modernize the guest experience. One of the major upgrades for the QSR included 6 Self Ordering Kiosk Application powered by XPR and integrated with Oracle Micros.
The new equipment has advantages to the customer as well as the QSR. For example, they help cut down the line tremendously on those extremely crowded days at the airport allowing Burger King to service more customers in a more timely manner. Another XPR addition to this QSR is an order display board that shows the order number when it is being processed and when it is ready. The kiosks have a multilingual menu and offer two language options to customers to order from: English and Greek. XPR offers menus in about 50 different languages which makes their software more appealing to places where people from different backgrounds travel through.