T Rowe Price cafeteria gets an upgrade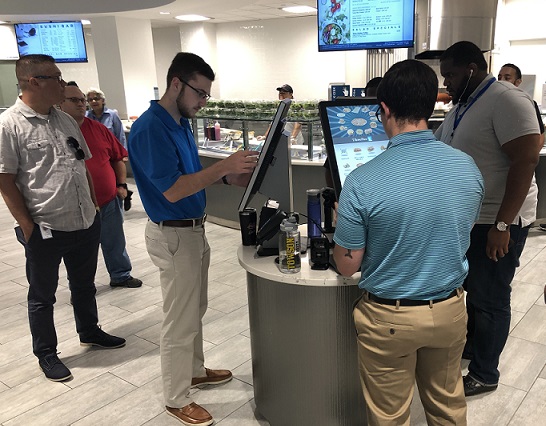 T. Rowe Price has implemented the XPR's Self Ordeirng Kiosk and Point of Sale in their corporate cafeteria that is managed by Culinart Inc.
With the new upgrade, employees walk up to the self service kiosks and build their order from the available menu selection displayed on the kiosk touchscreen. The employees can also add pre-packaged items to the cart by simply scanning them. The employees can pay by card at the kiosk and submit their order. The orders are then sent to the respective prep stations and employees can pick them up once the order is complete. The kiosks also have a time based menu feature which automatically changes the menu from breakfast to lunch.
Employees that choose items that are charged by weight (eg. Salads or Soups) can process their orders at POS station upon placing their item on an integrated scale. The employee can pay at a POS station with Cash or Card. XPR's POS system is designed for handling a high volume of orders which makes it perfect for this busy cafeteria.